44% of Online Buyers Go Straight to Amazon
Over 300 Million Active Buyers
Over 60 Million Amazon Prime Subscribers
Amazon presents Irish retailers with a fantastic, often untapped opportunity to quickly get their products in front of hundreds of millions of buyers in the UK, Europe, North America & Japan. However, the ferocious competition on the platform means that only the strongest retailers will succeed.
Retailers That Tend to Scale Quickly on Amazon

Traffic & sales graph for a retailer that went from zero to a sizeable monthly turnover in less than a year.
Retailers with a Unique Product Offering or a Genuine Cost Advantage
If you are the 30th retailer to start selling the Caterpillar boot in the below screenshot, the chances of being successful are slim to nil, unless you have a genuine cost advantage and can realistically undercut all 29 other retailers. For example, if a manufacturer forward integrates, a genuine cost advantage exists versus companies buying from that manufacturer. Manufacturers need to carefully consider the implications of disintermediating their route to market however; the companies being disintermediated may, for example, react by refusing to stock the products in offline stores. Those without a cost advantage on an existing product need to be selling a product that is unique to them so that a price war is avoided.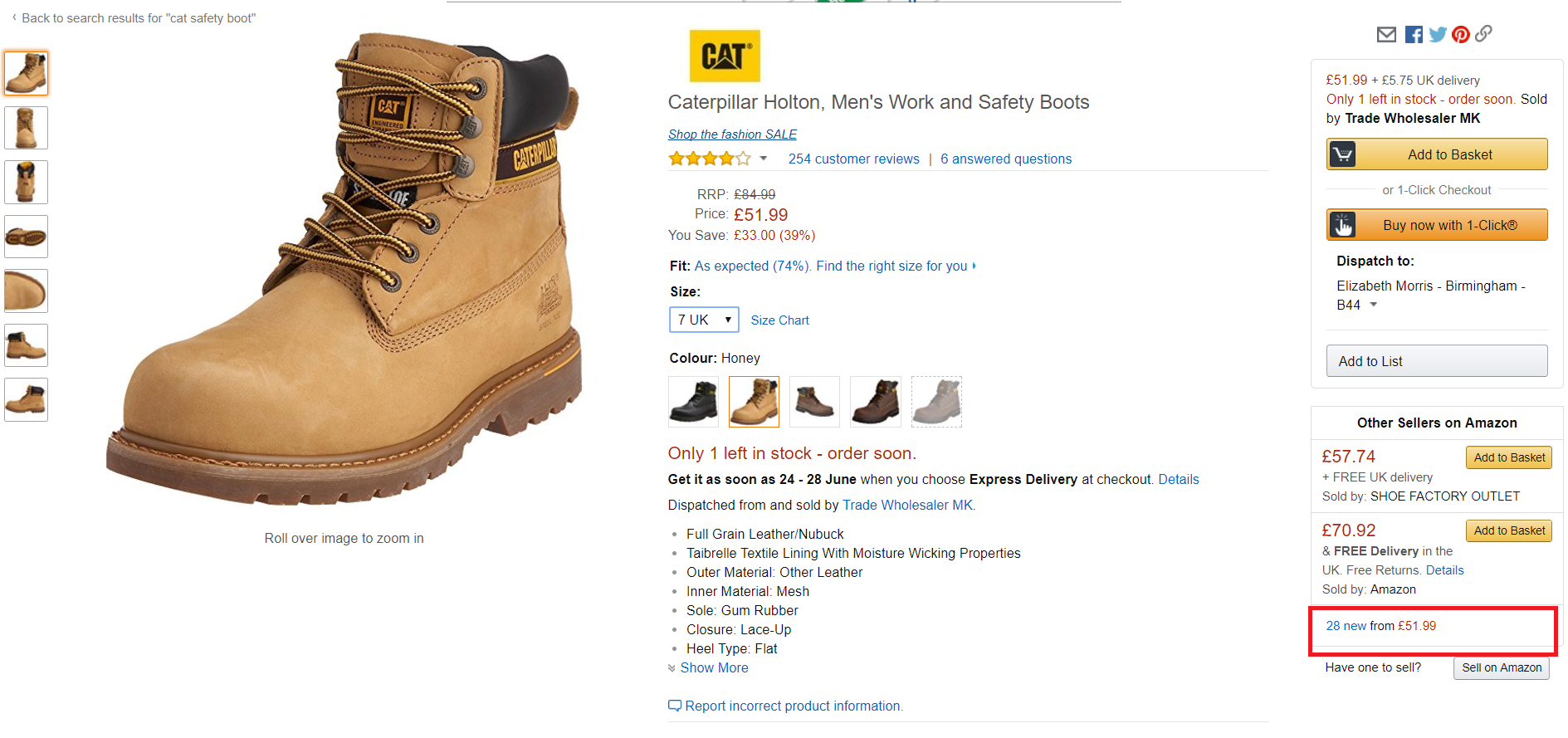 The above product is sold on Amazon by 29 retailers in total – that is fierce competition.
Retailers that have a Monopoly in a Geographic Location
For example, a retailer with unique distributorship rights in a particular country. Such retailers don't face any buy-box competition as they are the only ones authorised to sell the product in that geography.

Retailers with genuine USPs can scale quickly on Amazon
Testimonials

Dave Crowder
MD, Blaupunkt Tools
Symberity has been a key partner to us as we went from a standing start in the UK to a sizeable monthly turnover across multiple channels. The expertise of the team across all aspects of online marketing is matched by their genuine passion to grow our business. As we expand into mainland Europe, we are assured to have such a trusted partner by our side to navigate  the complexities of international, omnichannel online retail.
Our Amazon Service
Account Creation & Product Upload
Product Optimisation to Maximise Organic Traffic
Fulfilled By Amazon (FBA) Advice
FBA is Amazon's warehousing and fulfillment service that facilitates retailers in fully outsourcing this part of their business. A key benefit is that retailers using FBA are eligible for Amazon Prime and so get more exposure and sales on Amazon. We assist with enabling FBA on your account as well as arranging your products for shipment to an Amazon fulfillment centre directly from your suppliers or from your premises. FBA can be used to fulfill orders from Amazon but also any other channel such as your website or eBay for example. Irish retailers can leverage FBA to become truly global retailers without the capital expenditure that previously was required when expanding internationally.
Sponsored Products Management
Sponsored Products is Amazon's pay per click product promotion offering. As with any pay per click advertising, it requires close monitoring to ensure that return on ad spend (ROAS) targets are being hit.

In aggregate, this retailer is hitting an ACoS (advertising costs as % of sales) of 4.6%. However, the campaign marked in red are loss-making and need to be reviewed and fixed or paused.
International Expansion
If success is being had in one market, the UK for example, we can assist in replicating this success internationally in Europe, North America & Japan. This is achieved with no capex by leveraging Amazon's global distribution network. Our translation service ensures all product descriptions are expertly translated by fluent speakers of the relevant language. Retailers with a strong product offering can go global very quickly in months rather than years.
Speak to Us About Selling on Amazon